22nd Street is a major roadway in Saskatoon in need of a fundamental rethinking, but first we need to stop the bleeding. The wide street used to function as a thoroughfare for highway and truck traffic making its way through the city, but with the opening of Circle Drive South, 22nd Street's core function changed. Now it is an ultra-wide arterial street connecting the city's westernmost neighbourhoods to the core while bisecting some very walkable neighbourhoods.

The city is also planning a Bus Rapid Transit (BRT) system and has identified 22nd Street as a key corridor making it exist currently in a state of flux. We are at an interesting moment for 22nd Street providing us with an opportunity to re-imagine the corridor into a great street. This is an excellent idea that will take time to bring the vision to fruition. In the meantime there are some serious concerns that the street is not safe for pedestrians.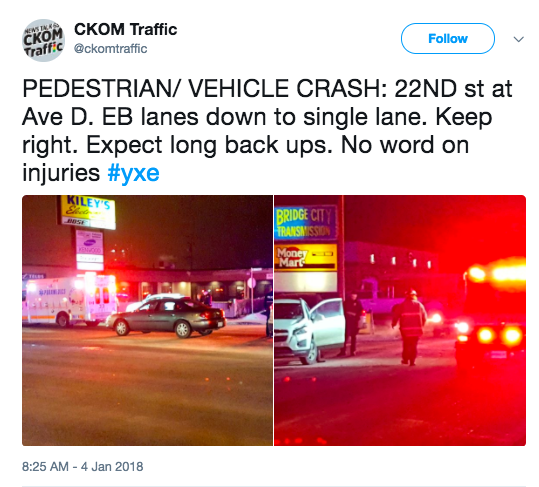 There were at least 10 collisions between drivers and pedestrians in 2017 resulting in several serious injuries and one death prompting MD Ambulance to urge citizens to be careful on the street. Some interim measures are needed to try and prevent similar stats from occurring in 2018.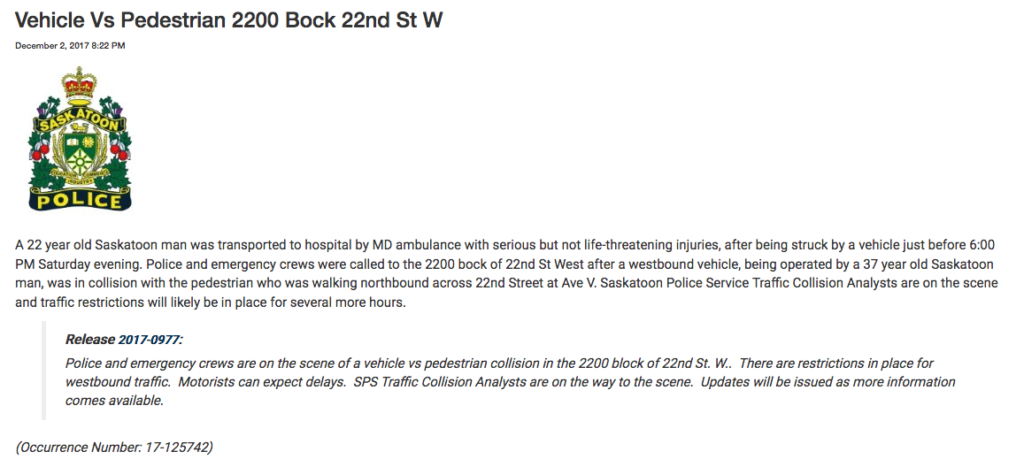 The 25 blocks of 22nd Street between Idylwyld Drive and Whitney Avenue is about as bad as it gets for vulnerable user design. There are some critical issues with the design of 22nd street. It is a major west-central arterial roadway that has some similarities to the major north-central arterial road, Idylwyld drive. Both streets are anchored by car centric businesses in their commercial zones but they also bisect residential neighbourhoods for long sections.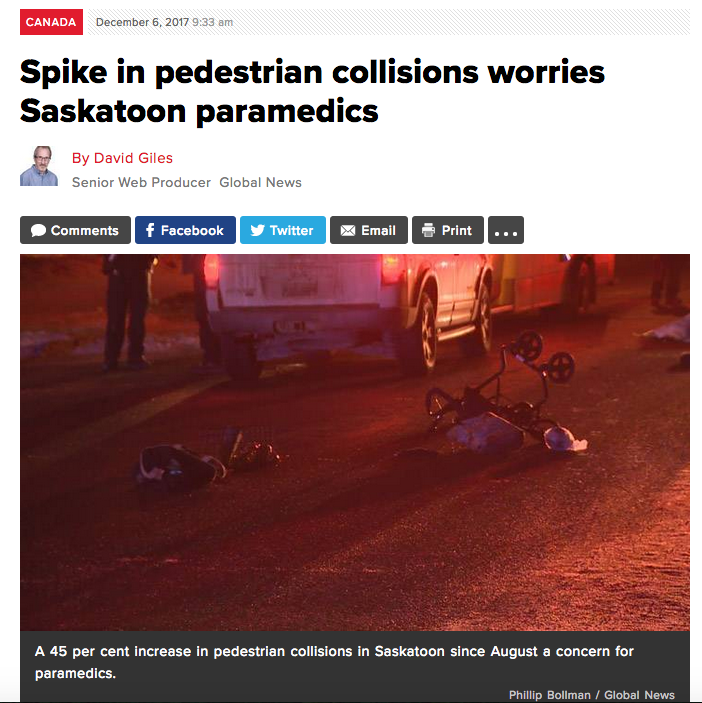 On Idylwyld there are generally a maximum of 5 lanes (4 driving + 1 left turn) to cross at any given time, 22nd St has an average of 7 (6 + 1 left turn) from Idylwyld through to Whitney Ave. There are only eight controlled points to cross the street between Idylwyld and Whitney. At these points of crossing, there is only a small median that limits the pedestrian clustering area mid road. The wide road width and few controlled intersections encourage faster speeds making collisions between drivers and vulnerable road users more dangerous.
---
Check back in a few days for our suggested fixes to make 22nd St. safer for all road users