2019 saw some good and some bad for walkers in Saskatoon. New crossing methods were successfully trialled and there was a renewed commitment to fixing existing walking infrastructure. On the downside, provincial seizure of traffic safety money led to fewer investments in new walking infrastructure, admin planning exercises were far more numerous than infrastructure investments and federal green infrastructure money went everywhere but to active transportation. Below is the first part of our series recapping 2019 in walking.
RRFB Pilot has Good Results
Walking Saskatoon has written about RRFB (rapid rectangular flashing beacon) crossing devices before. Over the last year RRFBs were piloted at five locations and will remain at one (Spadina and 33rd). The good news is that three of the other four crossing locations will get overhead flashing lights instead of RRFBs and multiple future locations have been identified for RRFB based on best-practice guidelines.
WCMUC Path Hits Multiple Roadblocks
While the sad cancellation of the 3rd Avenue bike lane got most of the press over the last year just as big a blow was dealt to the most important piece of active transportation infrastructure being planned in Saskatoon: the awkwardly named West-Central Multi-Use Corridor (WCMUC).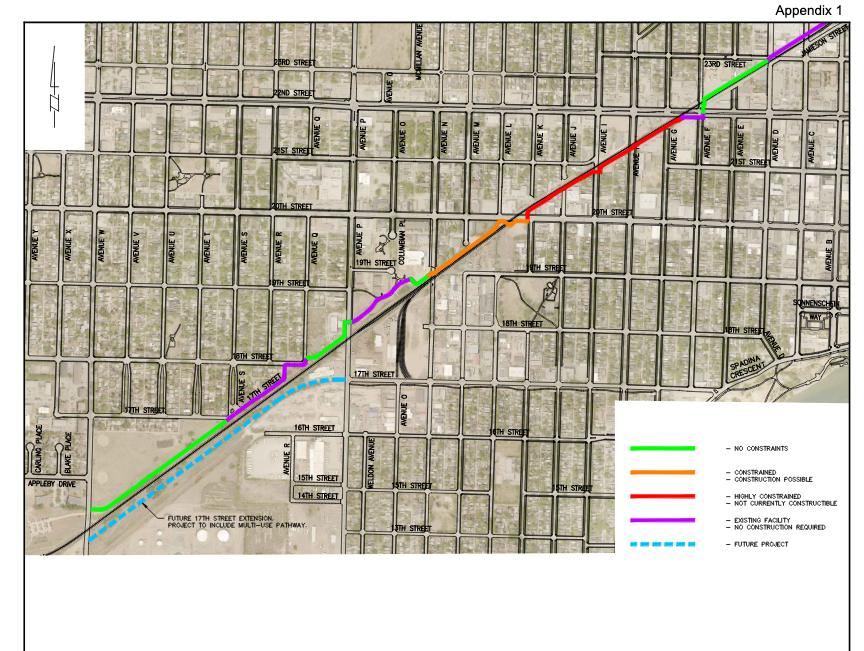 WCMUC is meant to improve and formalize a 3km (!) active transportation corridor that's already in heavy use, the series of alleys, pathways, roads and goat paths that parallel the CP tracks from 11th Street to Avenue D. This is a huge project and will provide great connectivity and safety in neighbourhoods like Riversdale, Pleasant Hill and West Industrial that have a high walk share. The project's first phase was completed a few years ago: it's the path from Idylwyld to Ave. D just off 25th near the police station.
We wrote about the ambitious early plans for the multi-use pathway last year but it's been nothing but bad news ever since our last update. Flush with federal money from a rail corridor safety initiative the city was optimistic about getting construction started this year. While the design is done, CP hasn't entered into a lease agreement with the city for the rail company's lands from Ave. D South to Ave. Q South. Further, CP will not let go of its leases for rail-adjacent land from Avenue F to Avenue K so there is not enough space to put the WCMUC trail in that critical section.
In addition, the city heavily underestimated of the amount of money it would take to build the pathway, only budgeting $1.5M for 3km of rail-adjacent pathway. In an update this year, the city now thinks it will cost $2.5M to build the trail from Avenue D to Avenue F only, about 2/3rds more money for about 15% of the original proposed trail length! If CP is willing to negotiate for that section. If the federal funding can be extended. If the extra million dollars for the project materializes from thin air.
In reality, this project looks dead in the water at worst, heavily delayed at best. City admin is pointing fingers at CP for delays but responsibility for the many missteps in this problems need to be shared amongst all parties. Unfortunately the city might end up losing over a million dollars in scarce federal money for active transportation as a result.